Optimize your planning with centralized skills data
365Talents provides a centralized home for skills data and analytics to better understand your workforce and how it compares to the market, ensuring you can plan quickly and confidently for your workforce's future.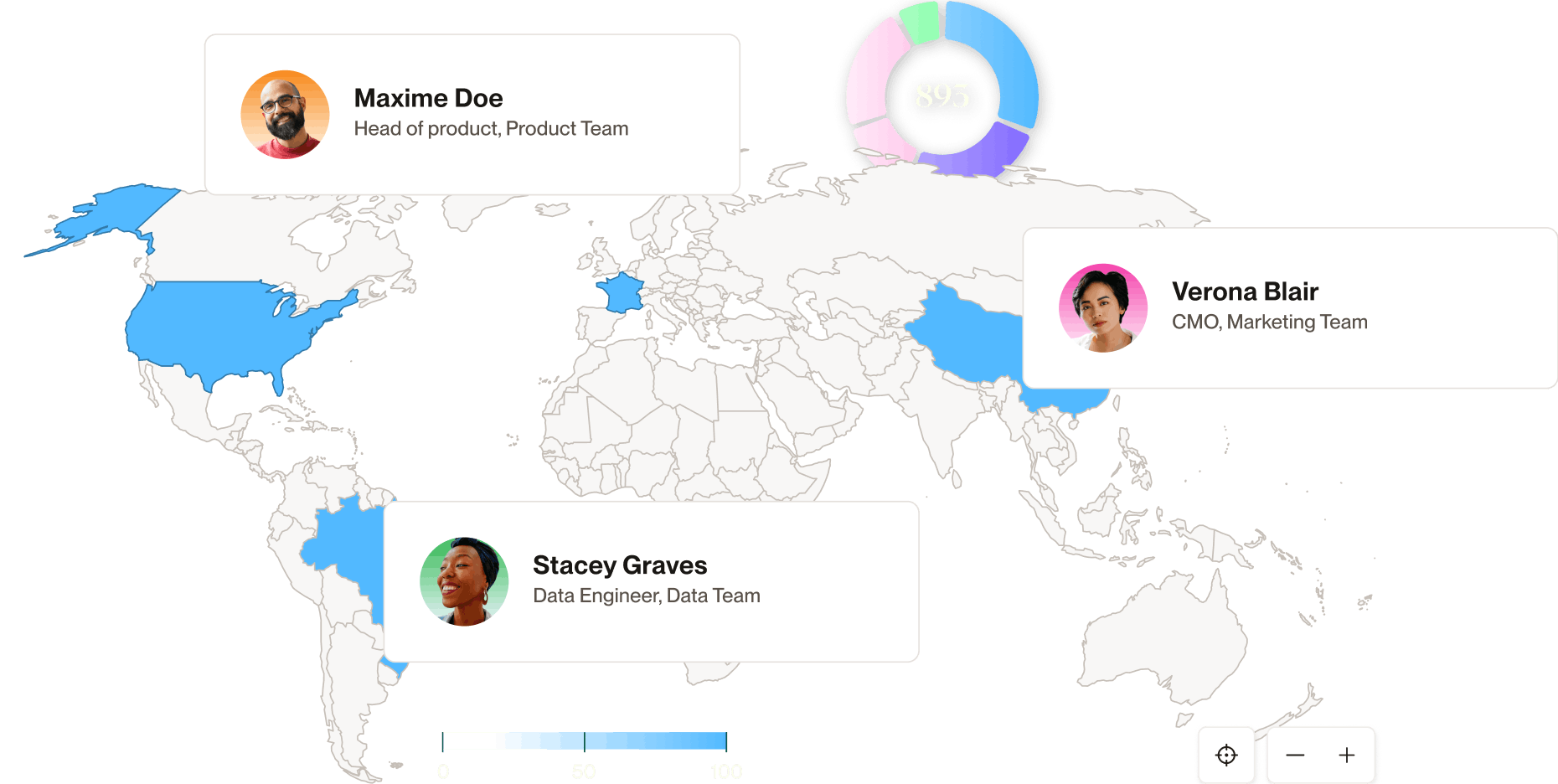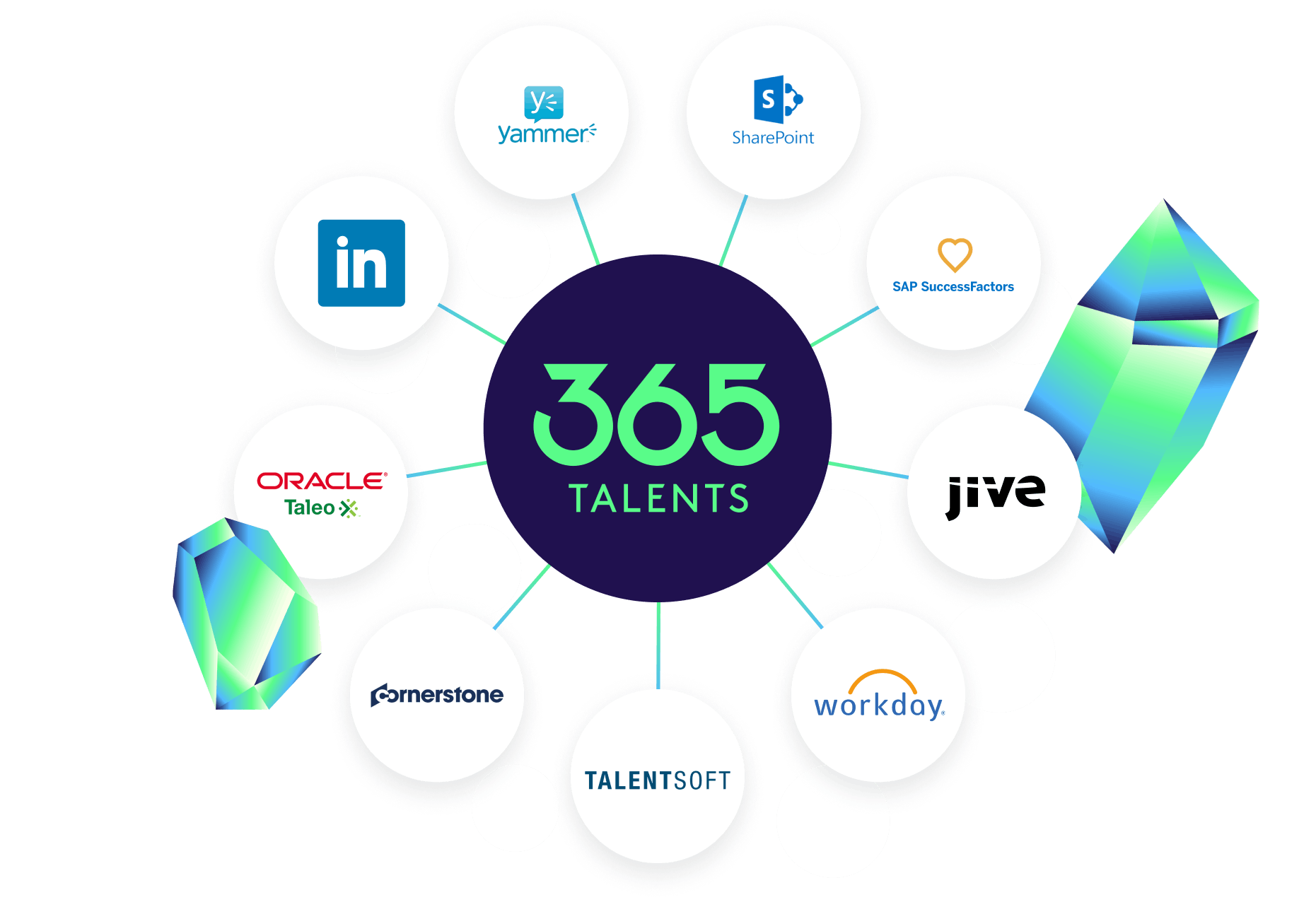 Centralize your skills data with full HRIS integration
365Talents integrates seamlessly into your IT ecosystem, integrating with your HCM and HRIS software as well as daily business tools.
Integration allows 365Talents to enrich employees profiles from Day 1 with smart suggestions and imported data while providing HR with the clarity of a central, holistic view of the jobs and skills at your company.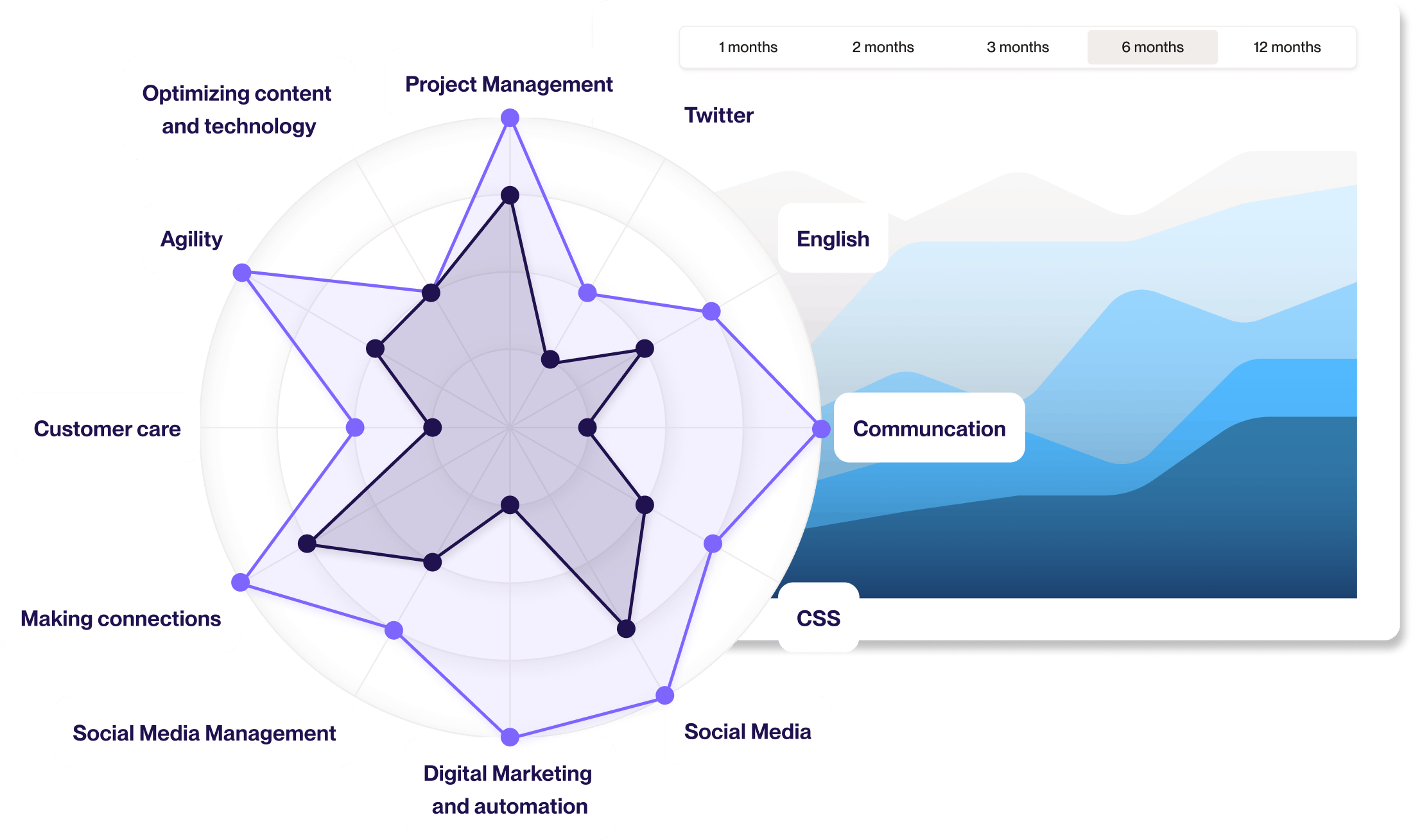 Act faster on skills analysis with automated reporting
Audit skills and jobs with real-time accuracy using 365Talents' powerful skills assessments, automated report delivery and easy export/integration capabilities.
With continuous AI profile analysis and employee engagement prompts, your reporting always contains the most up-to-date view of your people's skills, allowing you to pinpoint potential skill gaps and deliver better career outcomes sooner.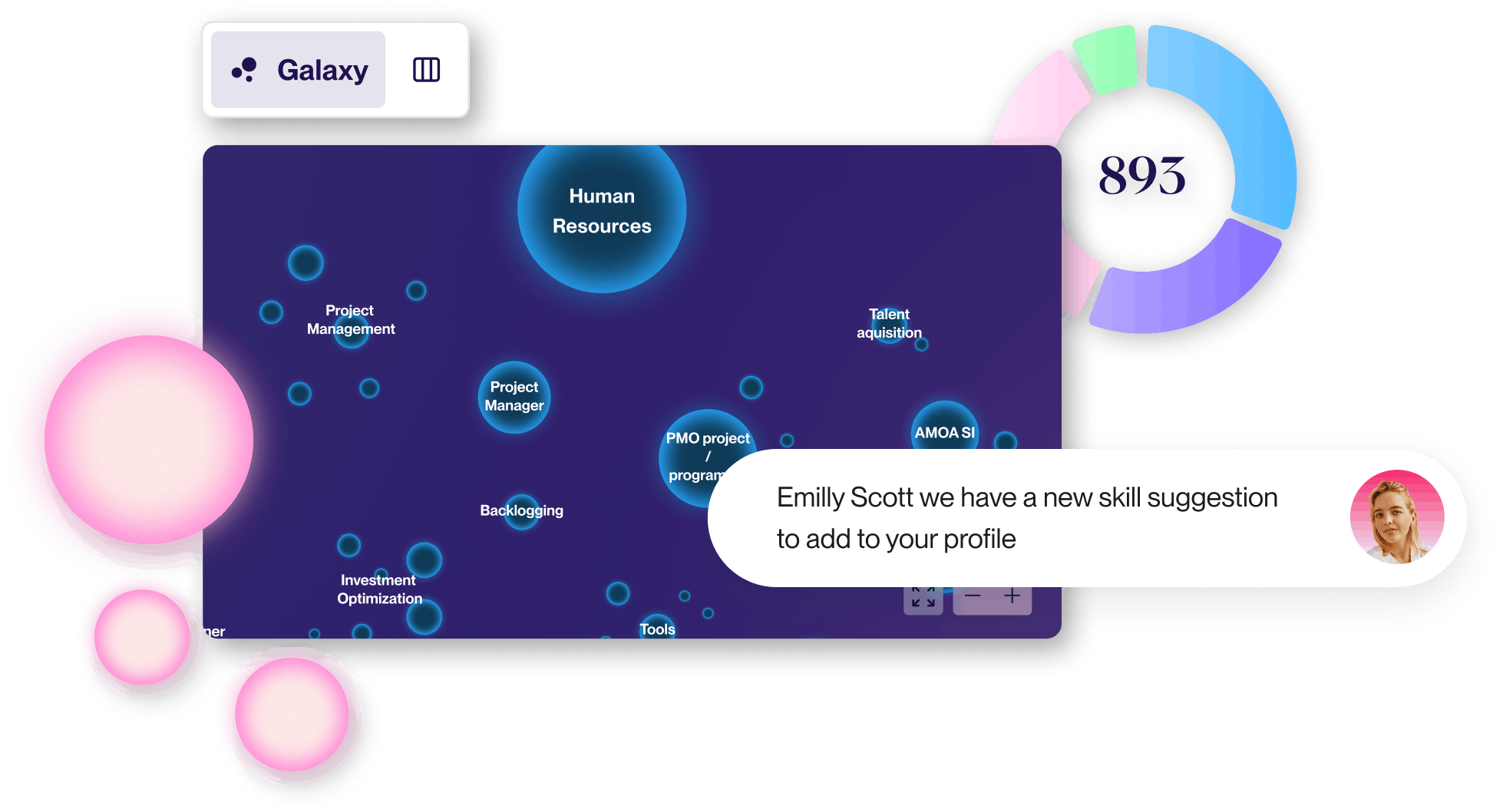 Maintain real-time accuracy with dynamic self-declaration
Evaluate and act on your skills data faster with real-time cartography capabilities. 
With 365Talents, you can leverage the most accurate skills maps possible, thanks to semantic analysis technology, daily data audits and smart skill proposals that keep your profiles up-to-date and your recommendations relevant to both your organization and the market.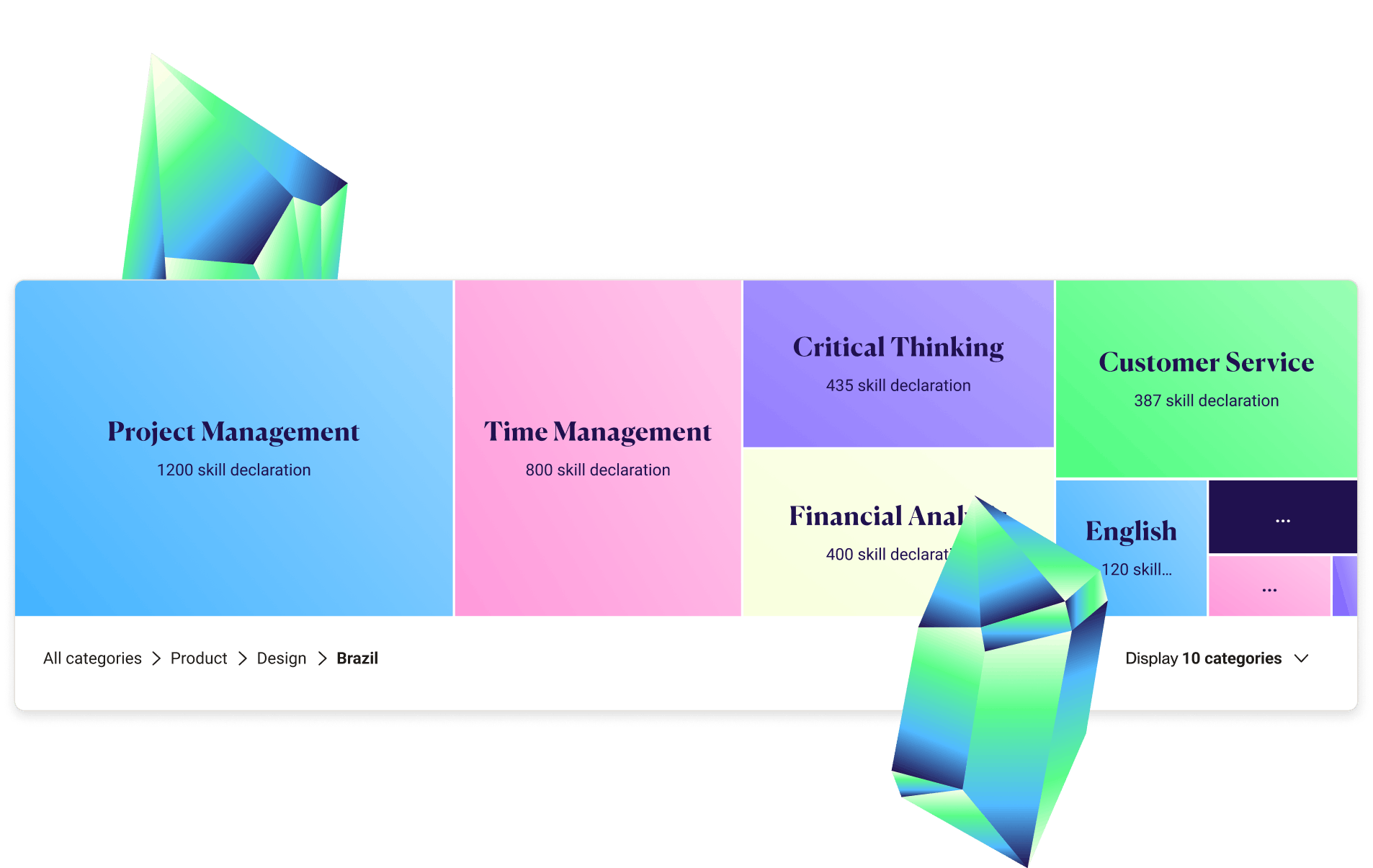 See your workforce clearly with skills-first insights
Visualize the skills of your workforce with actionable insights and detailed analysis of competence levels and prevalence across various geographic or organizational scopes.
With greater visibility and deeper understanding of your workforce, you can leverage agile strategic workforce planning to better prepare your people and your organization for the challenges of tomorrow.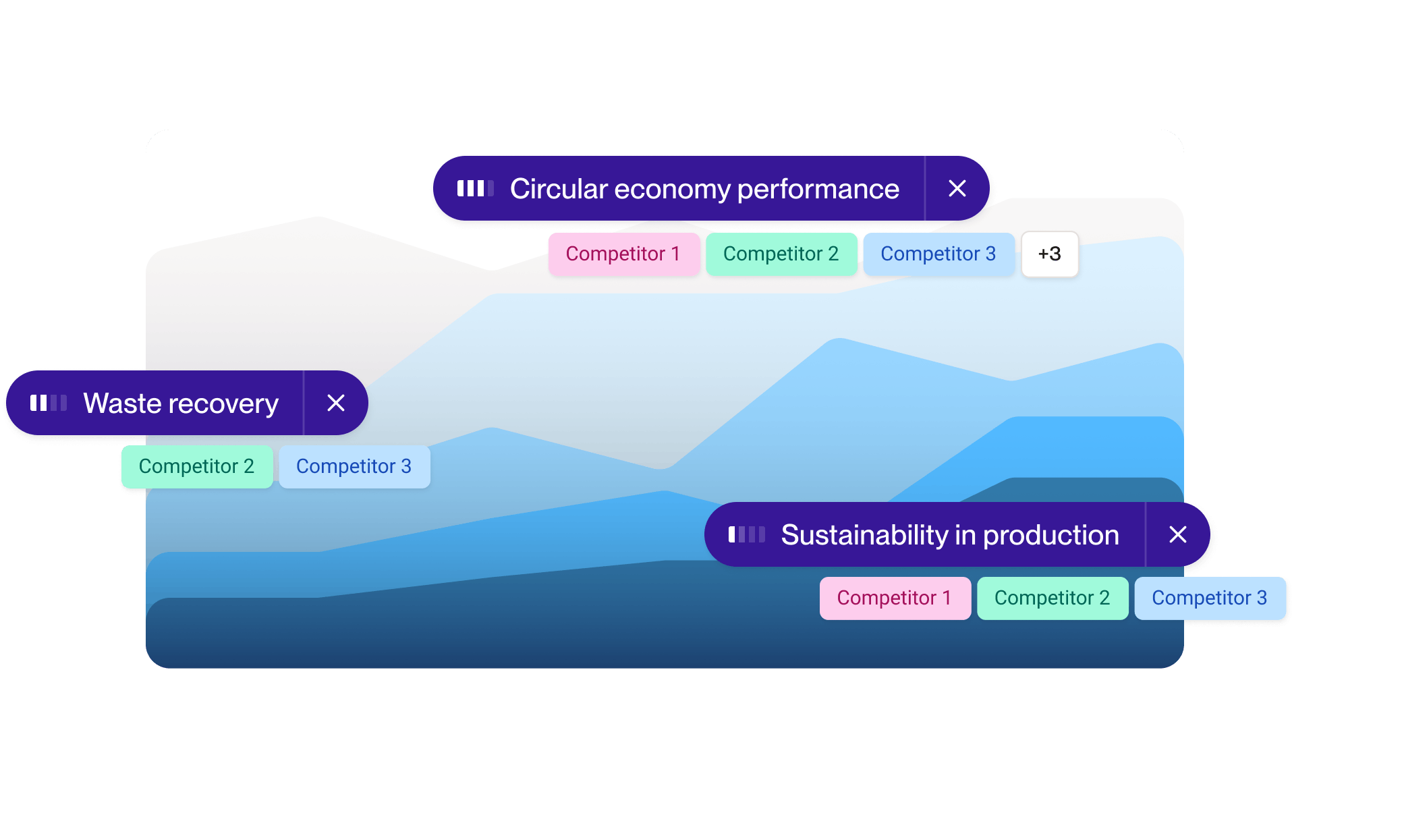 Optimize your frameworks with competitive analysis
Leverage market benchmarking analysis to better understand skill trends and values in your field and stay ahead of the competitive curve.
After you define your competitors, 365Talents scrapes their offers, extracting skills data to allow you to analyze their job specifications. You can then add new skills to your framework and use this new data to optimize suggestions for opportunity postings and employee engagement.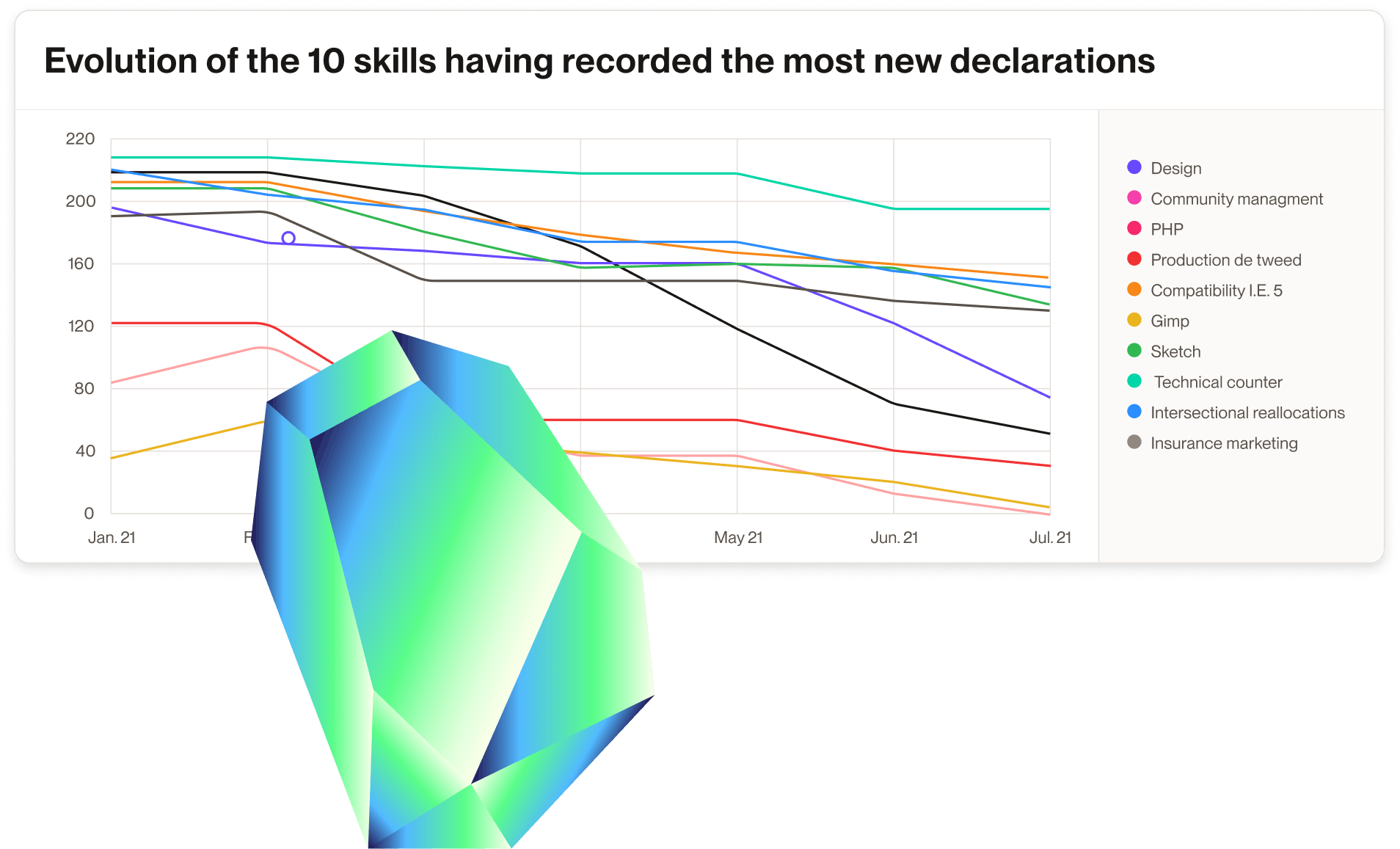 Anticipate market needs with workforce forecasts
365Talents reveals skills and job trends at your company and in your industry to better understand your workforce, create more relevant job posts and stay ahead of market needs.
With trending skill highlights, history and smart suggestions, you can identify the skills your people possess or lack and chart their evolution for more strategic planning and better matches between employee and opportunity.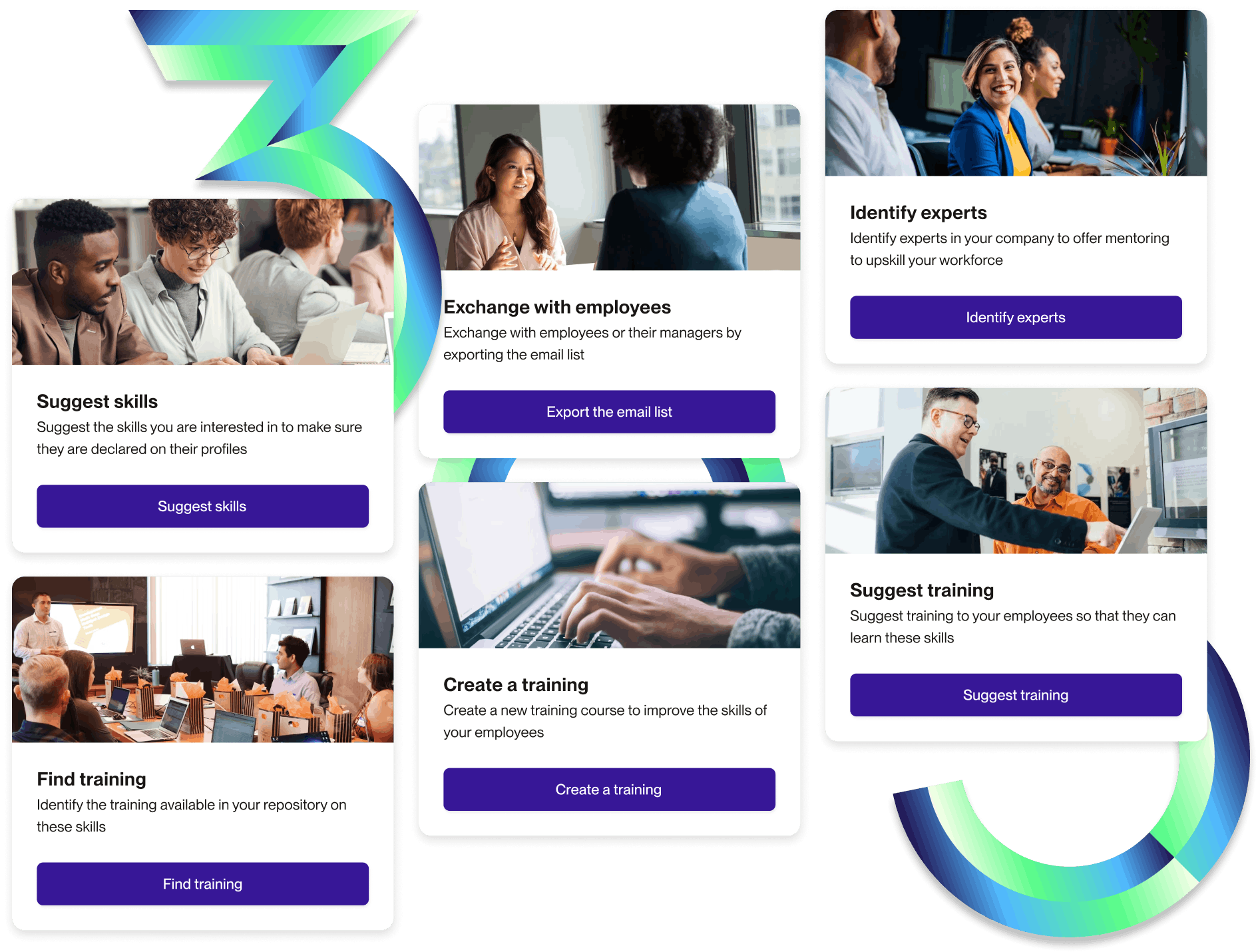 Bridge skills gaps easily with actionable analysis
Create concrete skills gap action plans for your organization, leveraging your employee's interests and ambitions to meet your business needs.
With actionable insights, dashboards and data visualizations at several levels of visibility, you can identify skills gaps before they happen, prioritize upskilling and reskilling actions and plan confidently for your next transformation.
Our customers say it better than us

Thanks to 365Talents, we offer our employees personalized HR services to help them be more active in their career by helping them to develop their skills and to reflect on their future. This allows us to make the internal job market more fluid and to reinforce our HR transparency approach. — Cristèle Pernoud, Head of HRIS and Operational Model Strategy
19 000
opportunities checked per month

We are really satisfied with the platform. Not only with the onboarded HR teams, but we are also thrilled that managers can now clearly see the daily benefits of the Talents platform.
+403
Users have initiated career development actions in 2022
Discover more about our product
Chart a new course for your people at work