How to promote effective internal mobility through upskilling [Checklist]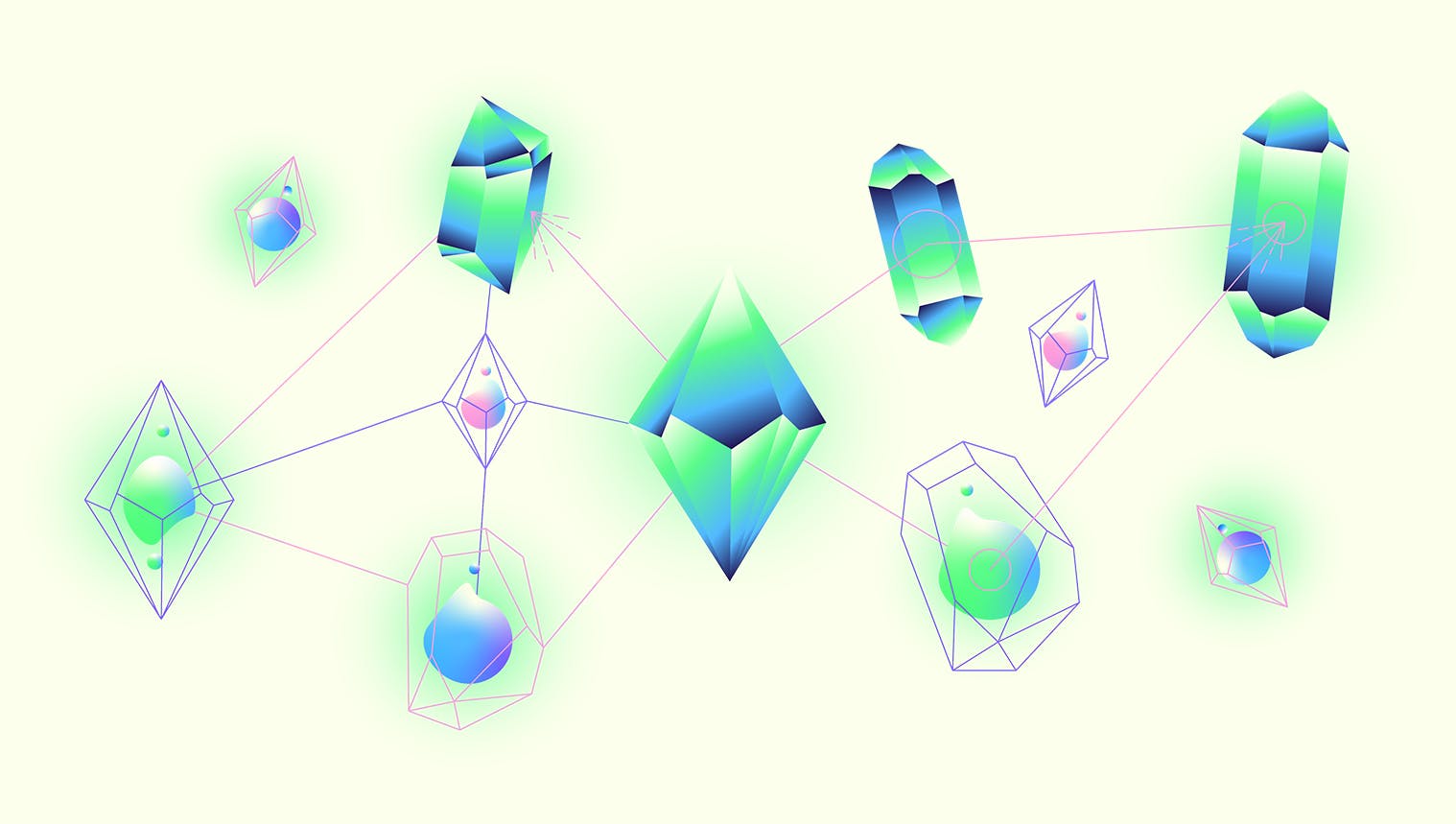 Internal mobility offers a number of perks for your company, including improved talent retention rates, better synergy and a considerable amount of time and money saved. To succeed in creating a culture of internal mobility, however, upskilling is essential. This is a key step in staying ahead of the competition and creating an employee-centered workplace.
The main differences between upskilling and internal mobility
Upskilling and internal mobility are two major pillars of human resources and share a common purpose: talent management aligned with company goals.
By definition, internal mobility is characterized by a change of position. Which is not necessarily the case for upskilling. But an employee can definitely upskill during an internal mobility. It's a subtle, but very real difference when it comes to setting  up the processes for your employees.
A brief reminder of the main differentiating points between the two.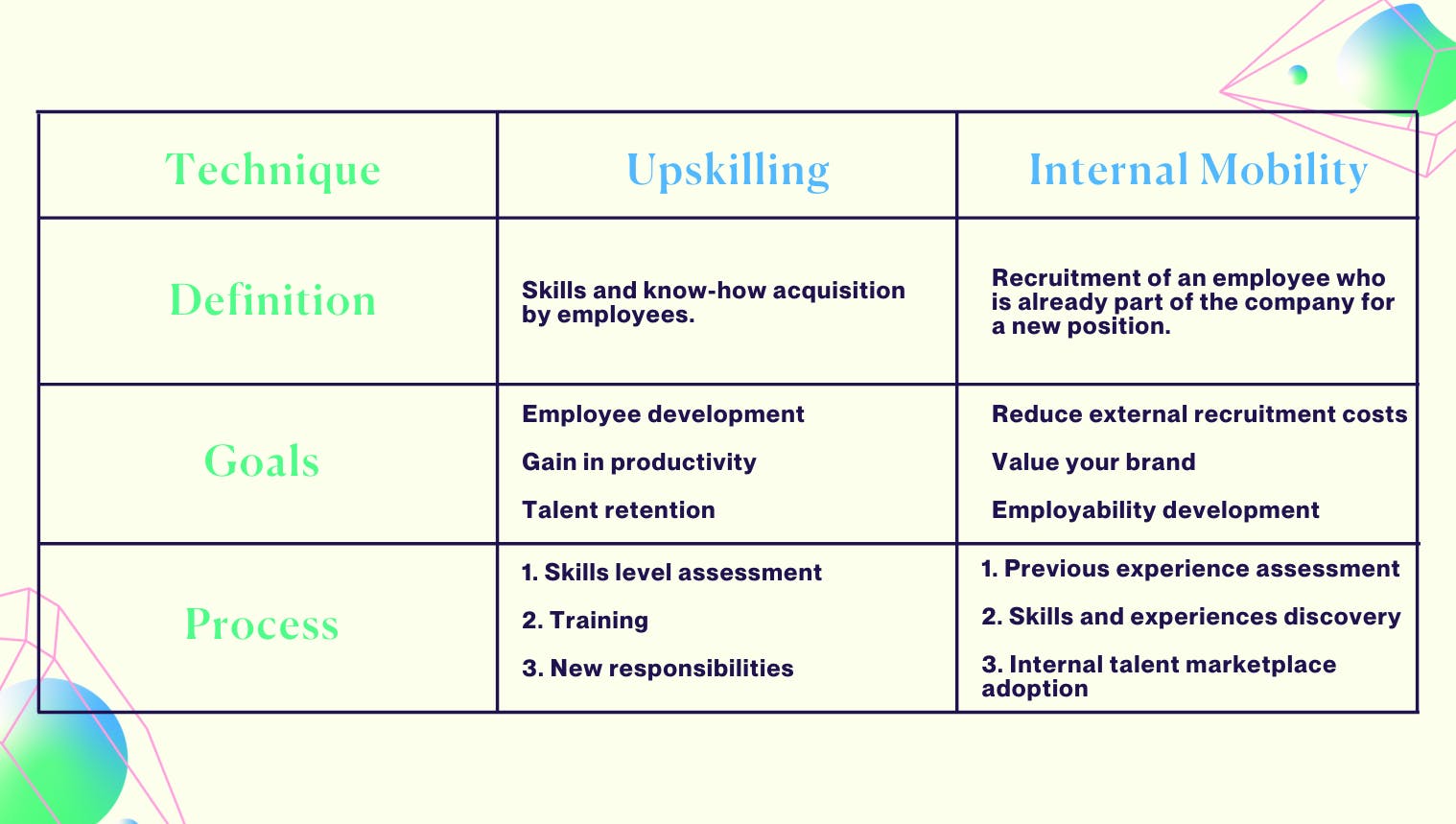 Upskilling for internal mobility checklist
1. Combine upskilling and satisfaction
As its name suggests, upskilling promotes the acquisition of new skills. At the HR level, it's an opportunity to improve the quality of work and increase productivity.
Upskilling is a key step in internal mobility, as it allows employees to evolve. Thanks to the acquisition of new skills and knowledge, the workforce will be able to better apprehend change and responsibilities. Upskilling is a necessary step to check off your list to guarantee the success of internal mobility.
2. Stay ahead of the competition
Upskilling is also a great technique to anticipate technological evolutions and market trends. It allows you to train employees on new practices and the most efficient techniques to stay competitive. For newer companies, upskilling is a way to build new talent and retain it.
3. Focus on employee needs
Upskilling highlights the well-being of employees. With new skills, employees will become more experienced and involved. In short, an excellent methodology to keep in mind, for improving the quality of the products or services offered by the company over time.
4. Trust the (skills-focused) process
Let's circle back to the process of setting up internal mobility. It involves three steps:
The first step is to listen, discuss and cover employee expectations and experiences. It is during this assessment that you will be able to set up an action plan and identify opportunities for internal mobility. To achieve this, you will have to cross-reference the information with the data you already have on employee skills (mapping, benchmark, skills development plan, etc.).
Upskilling is the perfect opportunity to become aware of the true expectations and objectives of each employee, while finding hidden gems.
Internal mobility depends on communication and trust between employees, managers and the HR department. Skills development helps strengthen communication within the company. It is also essential for defining the areas of progress to improve.
3 tips to ensure continuous upskilling 
To succeed in internal mobility, you have to pamper your upskill plan.
If you don't know where to start, here are 3 tips that work every time:
1. Assess employee skills
Before planning a development, it's necessary to know the acquired skills and experiences of each employee. It's also important to consider soft skills, i.e. values ​​and behaviors. This is how the company will build a personalized action plan.
2. Set goals
The HR department must be clear in its approach and communicate goals to employees and managers. Indeed, the employee must know exactly what is expected of them. In the same way, managers and leadership should fully be aware of their expectations.
3. Chart a course to follow
Upskilling cannot be improvised, you have to proceed step by step to set up achievable goals. During this time, it's also important to keep your employees motivated at all times.
Don't forget to set up time slots to talk with your employees about the rewards of upskilling combined with mobility. This is a real asset for managers since they already know each member of their team.
🎯 Promoting internal mobility cheat sheet
The process for implementing internal mobility
Previous experience assessment
Skills and experiences discovery
Internal talent marketplace adoption
Upskilling vs. internal mobility
Unlike upskilling, mobility can be geographic and thus, involve a change in location. There are also major differences in the way processes are implemented. Regardless, both are effective ways to motivate employees and reduce recruitment costs.
In reality, upskilling helps to bring new talent into the company and, more importantly, keeps it!  On the other hand, internal mobility allows employees to grow and show the full extent of their talents.